Babyology Lactation Clinic
Call 502-721-7727 to schedule and appointment.
Our lactation consultations are provided by International Board Certified Lactation Consultants. The IBCLC credential provides assurance that the consultant has met the highest standards of clinical training and experience. She will also collaborate with other members of the health care team to provide comprehensive lactation support.
An initial consultation begins with a complete history, an anatomical breast assessment related to lactation, and weight gain assessment of the baby. During the consult, the baby's ability to transfer an adequate amount of milk will be evaluated and the mother is guided in how to help her baby achieve optimal milk transfer without experiencing pain. All of mother's breastfeeding concerns are addressed and an individualized plan of care is developed specifically for her and her baby's needs.
You'll love coming to Babyology for your consultation. Our home-like exam rooms are very relaxing. Plus, we are easy to find, you can park at the door without having to carry your newborn baby and baby gear through a large parking lot, or having to find space in an elevator. Beyond the physical comforts, our staff will support you through your transition as a new parent with personal care that cannot be replicated in a large facility. We believe you are our neighbor, and if you don't know us already, we share a mutual friend.
What your friends are saying about Babyology:
"When my daughter was 1 week old, I was ready to give up breastfeeding. I went to see Vicki, and she changed everything. Breastfeeding felt stressful and impossible before I went to Babyology. Many tears were shed before Vicki's help. Now my daughter rarely gets any formula. I couldn't be more grateful. They help you reach your goals with advice, kindness, and encouragement."
What to bring to your consult:
Dress comfortably for nursing your baby.
Bring your baby ready to feed, and a stocked diaper bag with a change of clothes for baby.
If you have a companion to help, they are welcome to attend the consult with you.
The baby's older siblings will be happier with a caregiver.
Consultations are by appointment only.
Call 502.721.7727
Signs you may need a Lactation Consultation
Baby has not re-gained birth weight by 2 weeks of age
Newborn (less than 6 weeks old) has not had at least 4 BM's in 24 hours
Feedings take longer than 30 minutes
Sore Nipples
Engorgement
Blocked ducts
Baby has rapid weight loss or is not gaining weight
Baby has had rapid weight gain
Latch problems
Baby cries and seems "hungry all the time"
Baby is very tired and falls asleep at the breast
Baby is premature
Baby has jaundice
Baby has cleft lip or palate
You have twins, triplets, or more!
Free Weight Checks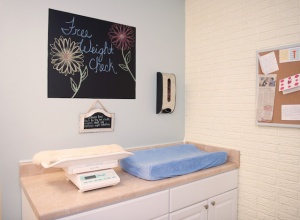 We offer FREE Weight Checks during regular business hours. No need to worry about your baby's weight gain. Our staff is here for you, and can give you the reassurance and guidance you need to reach your breastfeeding goals.
No appointment necessary for weight checks. We ask you to sign a release form so that we may share your baby's weight with your healthcare provider.